Last updated on September 6th, 2023 at 12:52 am
When you visit a merchant by clicking a link on this site we may make a commission on anything you buy (at no additional cost to you).   Affiliate programs and affiliations include, but are not limited to Amazon Associates and the eBay Partner Network."

You can tell a lot about a person and how they use their knives by how many serrated blades they have in their rotation.
For the longest time, I avoided having any serrations on my knives and considered it "wasted space" on the blade.
However, if you are a bit wiser than I was you know that a serrated blade has a utility that a non-serrated blade could never match.
And, if you're in the market, why would you look anywhere but Spyderco?
Spyderco has what I consider to be the best selection of serrated blades for work, outdoors, and everyday carry of any mass-production knife brand.
The best Spyderco serrated blade folding knives are tough, have a proprietary serration design, and are extremely affordable.
I won't draw this out any longer, if you want the best folding Spyderco serrated blade on the market, get a Spyderco Salt 2.
Spyderco Salt 2 – Best Serrated Spyderco Model
If you're a crusty old bearded crab fisherman in Alaska, you've probably heard of Spyderco's Salt models. For everyone else, I'll introduce you.
Spyderco's Salt line is a line of (mostly) serrated knives that are meant for marine use. Their main selling point is that they use H1 or LC200N steel for extreme levels of corrosion resistance.
However, their utility is obviously not limited to life on a boat. They are suitable for daily carry which is how I've been testing my model for the past couple of months.
The knife I tested (and consider the best Spyderco serrated blade) is the Spyder Salt 2. However, there are larger and smaller knives (both fixed blades and folders) that may be more suitable for your specific use case. You can check out all their current models here.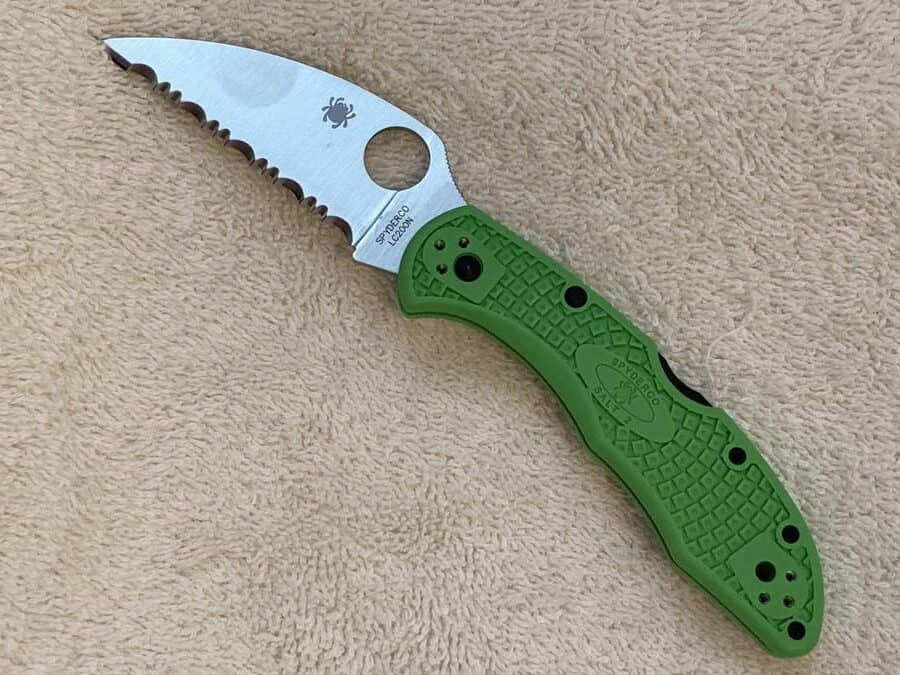 Spyderco Salt 2 Review
I went with a Spyderco Salt 2 with green grips and a Wharncliffe-style blade. I ended up paying a bit over $180 for it delivered to my door. Was it worth it? Eh. Let's talk about it.
Salt 2 Specs:
Overall Length: 7.2″
Blade Length: 3.0″
Steel: LC200N
Closed Length: 4.25″
Edge Length: 2.65″
Weight: 1.9oz (54g)
Blade Thickness: 0.098″ (2.5mm)
Handle: FRN
Clip Position: Ambi
Tip Carry Position: 4-position
Lock Type: Back Lock
Grind: Full-Flat
Salt 2 Notable Features
If you've been around for very long you'll know that I'm a firm believer that knives are knives.
In my opinion, the point of diminishing returns for knife quality is around $50. After that, you have to spend a huge amount of money to get a measurable increase in quality.
Sure, there are good knives and bad knives but, if you take care of a knife (keeping it clean, oiled, and sharp) then most knives will do their job.
Now that I've got that out of the way, I have to say that the Salt 2 is an awesome serrated blade!
So let's talk about the things that make it different from all the "other" knives on the market.
Steel – H1 & LC200N
The main selling point of the Salt Series of knives is that they are all but corrosion-proof. You could drop one of these knives in the ocean and go back a month later, wipe it off, and keep using it.
At least in theory.
But how does the steel stack up to use in daily carry? Well, my knife came with LC200N steel so let's dive into my thoughts on that.
LC200N is a high-end stainless steel (>13% chromium content) that has been in use since 2013. It is a fairly hard steel (58 to 61 HRC) and is mainly known for its incredible corrosion resistance. It has been used by NASA (ball bearings) and has been used extensively in knives (especially by Spyderco).
It is fairly easy to sharpen (and polish) and will hold an edge fairly well. Without getting mired in details and charts, it performed for me as I would expect a high-end knife steel to perform, with the bonus of being rust-proof.
LC200N is not the toughest steel out there but it does have decent wear resistance and edge retention. It is well suited to hunting, fishing, or other outdoor tasks as well as daily use. Just don't go chopping rocks with it or it's liable to chip.
If you're stuck between H1 or LC200N, flip a coin. Many experts consider LC200N to be a step above H1 but both are such excellent steels that you'll be hard-pressed to notice a difference in use.
FRN Grips
I'll just come out and say it, FRN scales feel cheap. I personally prefer G10 but, seeing as FRN is the option, that's what my knife came with.
However, all my misgivings were based on the feel rather than performance. While it is a bit slicker than I would like, FRN is an extremely tough plastic that is highly suitable for its application here.
SpyderEdge – Spyderco's Proprietary Serration Design
One of the main advantages of a serrated blade (over a plain blade) is that its increased cutting surface means that it dulls more slowly. In fact, SpyderEdge (Spyderco's serrated blade design) has up to 24% more cutting area than the smooth blade equivalent.
Serrated blades are best suited for tasks such as cutting ropes, fabric, belts, bread, and other textured materials. The main advantage of a serrated blade is that the increased cutting area and scalloped designs mean that it bites into objects more quickly and are less likely to crush items as it cuts horizontally rather than vertically.
My Overall Take On The Salt 2:
I'll keep it simple here. The Salt 2 is a very nice knife. It is also very expensive.
If you handed this knife to someone who knew nothing about knives they would never guess that it was of premium quality.
If you are looking for the best Spyderco serrated blade and don't need corrosion resistance, get a different knife. However, this is one of the best that they make so if you're as crazy as I am, you probably can't do much better than something in the Salt Line.
Other Serrated Spyderco Knives I'd Carry

If you need a cheaper option than the Salt 2, take a look at the Spyderco Delica.
The main difference between the Salt and the Salt 2 is that the newer version had significantly updated ergonomics. These design changes were taken straight from the Delica
The knife above is extremely similar to my Salt. I opted for a Wharncliffe on my knife but the serrations and handle ergonomics are nearly identical.
You can also check out the Delica 4 here.
Conclusion
If you're in the market for the best serrated blade that Spyderco has to offer, get the Salt 2. If you're looking for the best-for-the-price serrated blade that Spyderco makes, go with the Delica 4.
Both of them are excellent tools to add to your arsenal. So excellent, in fact, that you should probably do what I did and just pick up both of them. You can justify it to your wife later.
When you visit a merchant by clicking a link on this site we may make a commission on anything you buy (at no additional cost to you).   Affiliate programs and affiliations include, but are not limited to Amazon Associates and the eBay Partner Network."