When you visit a merchant by clicking a link on this site we may make a commission on anything you buy (at no additional cost to you).   Affiliate programs and affiliations include, but are not limited to Amazon Associates and the eBay Partner Network."

Let's be honest, every knife magazine or website out there wants to highlight Sebenzas and Hinderer knives.
Why?
Well, first off, because they're super sexy. But also because they're expensive enough that readers want to drool over them and, if they buy, the writer gets a nice fat commission from the sale.
But what about people, like me, who actually want to carry cool knives without being relegated to the couch at bedtime?
Well, there are some very cool knives out there that I purchased with my own money to carry simply because I think they're innovative or interesting in some way.
This week's flavor?
CRKT's CEO. The Knife of Gentlemen.
CRKT CEO Overview
My knife: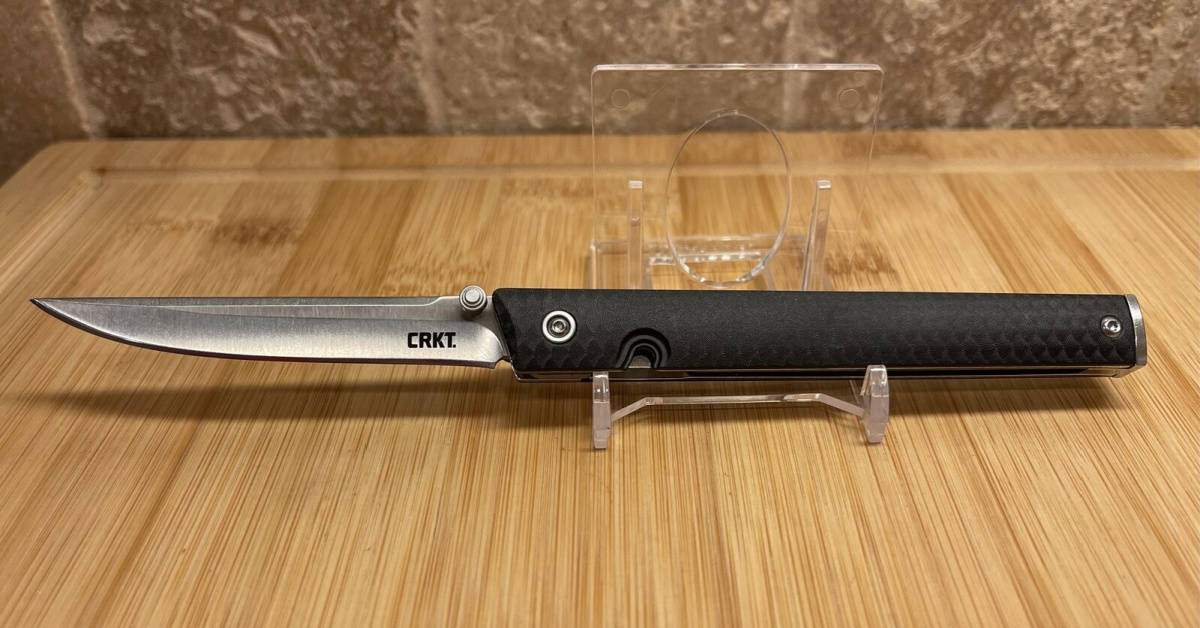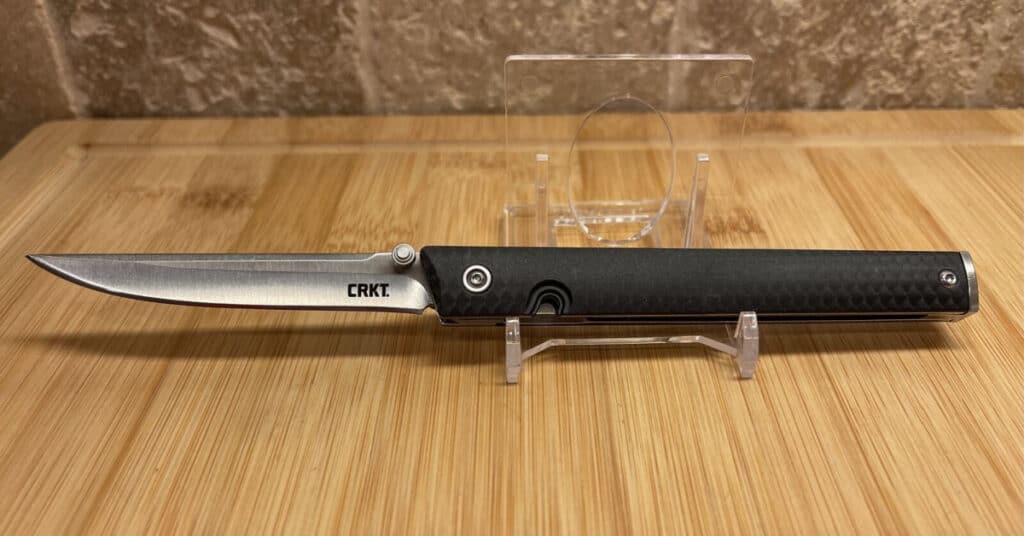 While I personally would have preferred the black-out version (or the flipper version), the shop I visited didn't have either in stock. Being the impatient customer that I am, I went ahead and bought the CRKT CEO 7096 which is the knife you see above.
This does have the added bonus of being the most commonly purchased version of the knife so, if you're in the market, you'll likely be looking at the exact same colors and specs.
General Specs:
To give a point of reference here I looked through the other knives in my collection and chose two of CRKT's other best-selling knives to compare the CEO to, the M16-03KS, and the PILAR.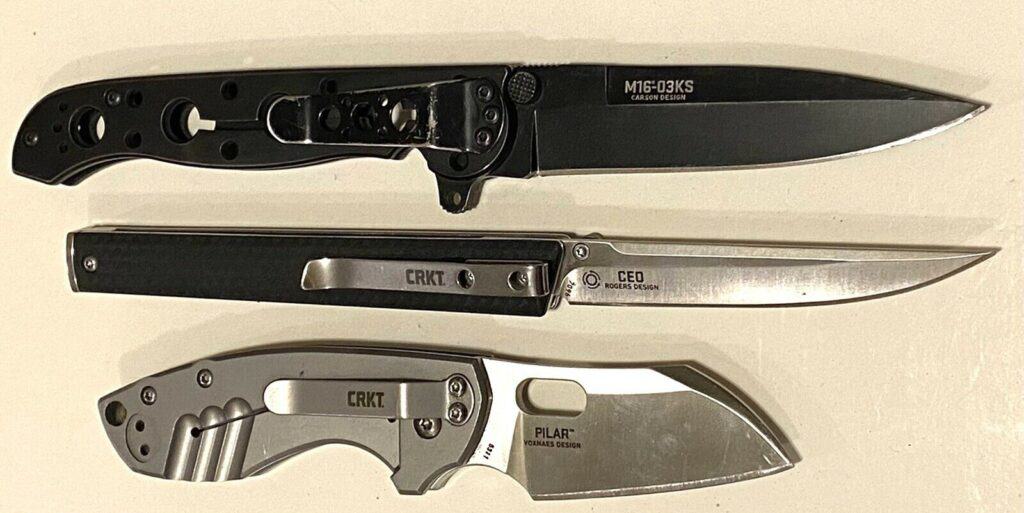 | | CEO | M16-03KS | PILAR |
| --- | --- | --- | --- |
| Overall Length (Opened) | 7.63″ | 8.25″ | 5.94″ |
| Overall Length (Closed) | 4.45″ | 4.66″ | 3.93″ |
| Blade Length | 3.11″ | 3.55″ | 2.4″ |
| Weight | 2.1 oz | 3.8 oz | 4.2 oz |
| Blade Steel | 8Cr13MoV | 12C27 Sandvik | 8Cr13MoV |
| Scale/Handle Material | Glass Reinforced Nylon | 2Cr13 | Stainless |
| Pivot System | Ball Bearing | Bronze/Nylon Washers | Washers |
| Lock Style | Liner Lock | Frame Lock | Frame Lock |
| MSRP | $39.99 | $64.99 | $49.99 |
CEO Options
Now, there are a few other options when you're shopping for the CEO. Not many, but enough that you'll have some choices to make.
Blade Finish: Black, Plain
Scales: Glass Reinforced Nylon In Black, Burgundy, Blue, and Bamboo. BladeHQ also offers an exclusive green Micarta version.
Blade Steel: 8Cr13MoV, D2, or S35VN if you want to pay for an upgrade.
Best Replacement Scales For The CRKT CEO
I make my money piecemeal and the money available to spend on new knives comes even more irregularly.
So, when I do get money, caring for or upgrading my current knives is one of my top priorities. However, there are not a ton of options for modifying the CEO.
There are a few places where you can get customer scales (such as these in titanium) but that's about the extent of it unless you're feeling handy.
CRKT CEO – My Review After A Month Of Daily Carrying
From many reviews I read, a lot of buyers seem a bit underwhelmed by the CEO. At odds with this is every single person I let handle the knife who was very impressed.
So which is it? I did my best to temper my expectations and be objective so I wasn't disappointed but was just too excited by a new knife.
So let's talk about things I liked and the ones that were a bit less-than-stellar.
Pros
To be honest, the best thing about this knife is its looks. And that's not just because it's a wicked-looking knife (it is) but because it totally disappears in our pocket.
Not that it doesn't print, but because nearly anyone who sees it could mistake it for a pen. During the month I've had it I've carried it in jeans, in a suit coat pocket, in the pocket of a flannel shirt, in slacks, and on my belt.
Beyond the advantages of its size and design, however, there are a few other things that I really loved about the CEO:
Easy Opening. The early versions of this knife seemed to have some issues with the pivot as many buyers report that it was extremely difficult to open with one hand. Those issues must have been resolved as I didn't have an issue opening it with one hand (a necessity as I have kids and can't set down an open knife)
Smooth In Pocket. The thumb stud sitting in its cutout is both a blessing and a curse. It makes it a bit hard to open but you also have the benefit of it not catching on pockets or scratching anything up.
It's Legal. Unless you need your knife blade under 3″, the CEO is legal in most places. It's not a stiletto, it's not double-sided, and it's not even assisted. It's at home in the office as well as the warehouse.
Even though I've had people tell me that the CEO looks like either a shank or a fillet knife, I've really enjoyed carrying it and it has all the hallmarks of a good quality knife. It will remain my EDC at least until I find something else exciting.
Cons
I'll start with the obvious question that is probably holding you back from buying this knife. How does it actually function in day-to-day tasks?
Well, to be honest, you do have to give up a bit in the ergonomics department in exchange for the overall design.
While none of these were deal breakers for me, here is how the design affected my experience in using the knife:
The thin handle makes it difficult at times to open with a single hand. You have to wiggle the knife around and situate everything just right.
The GRN scales provide decent grip but there just isn't enough to provide the heft and grip I like when dealing with heavier-duty tasks.
The recessed thumb stud can be hard to access and really does a number on your thumb pad if you're opening the knife a lot. The thumb stud is not ambidextrous. If you're left-handed you're going to be feeling very left out.
Tip-down carry sucks. While this is mostly a preference, I do feel that I'm in the majority and it annoyed me that I didn't have another option.
CRKT CEO's D2/ 8Cr13MoV Steel Blade – About What You'd Expect
The CEO is a lot of knife for the money. However, you're mostly paying for the ball bearings in the pivot, not the steel. None of the steel options are bad, especially for the price, but you won't have the sharpest knife and it won't hold an edge forever.
On the plus size, I only sharpened my knife once during the month and it wasn't because I needed to. Unless you shave with your knife, a quick session every couple of months is enough for this level of steel.
It's also worth noting that, if you're really into blade steel, you can fork out $134.99 for a blue version of the CEO with S35VN steel.
So, Should You Buy It?
As cool as CRKT's CEO is (kudos to the designer Richard Rogers) there are similar (and probably nicer) knives available. The problem is, they're way more expensive.
The CEO has become so popular because it offers incredible value. At less than $40 I would highly recommend it!
However, I would also highly recommend that you look into the flipper version of this knife if you want to save your thumb.
High-Quality Alternative
If you like the slim flipper gentleman's knife vibe but want something a bit more hardwearing, there are a few options on the market. Most of them, however, are from shoddy companies you've never heard of and are just ripping of CRKT.
However, if you're willing to spend a bit more you can get essentially the same knife as the CEO but with M390 Steel and titanium scales from Samior.
They also have a Damascus version if you prefer that look. Whichever one you choose, keep it sharp and stay safe!
When you visit a merchant by clicking a link on this site we may make a commission on anything you buy (at no additional cost to you).   Affiliate programs and affiliations include, but are not limited to Amazon Associates and the eBay Partner Network."