Last updated on May 17th, 2023 at 04:07 pm
When you visit a merchant by clicking a link on this site we may make a commission on anything you buy (at no additional cost to you).   Affiliate programs and affiliations include, but are not limited to Amazon Associates and the eBay Partner Network."

Don't tell anyone, but I carried an illegal knife around my college campus for more than a year.
I just didn't know that I was breaking the law.
I was carrying a Spyderco Paramilitary 2, not an egregiously large knife but one that was apparently illegal as the blade was over 3″ long.
I knew my state law had a 4″ length limit on concealed knives but I didn't realize how common it is for there to be separate laws for schools, government buildings, etc.
In fact, many states limit carry knives to a 3″ blade limit. Naturally, you're like me and want to carry the biggest knife you can.
So what are the best options for knives with a 3″ blade? Well, if you're not quite up to speed on what makes a good quality knife but still want to cut apples (or open boxes, defend yourself, etc.) then these are the options that I recommend.
5 Best Knives With A 3″ Blade
These are probably not the "best" knives with a 3″ blade. Not only is this highly subjective, but the best knives are often not feasible to carry on a daily basis.
Instead, I chose really nice knives that function well, look nice, and are affordable enough that you won't cry when you scratch or (heaven forbid) lose it.
The other benefit of choosing cheaper knives is that I have actually owned all of these at various times and can attest that they're great!
1. Spyderco Para 3 (2.92″ Blade)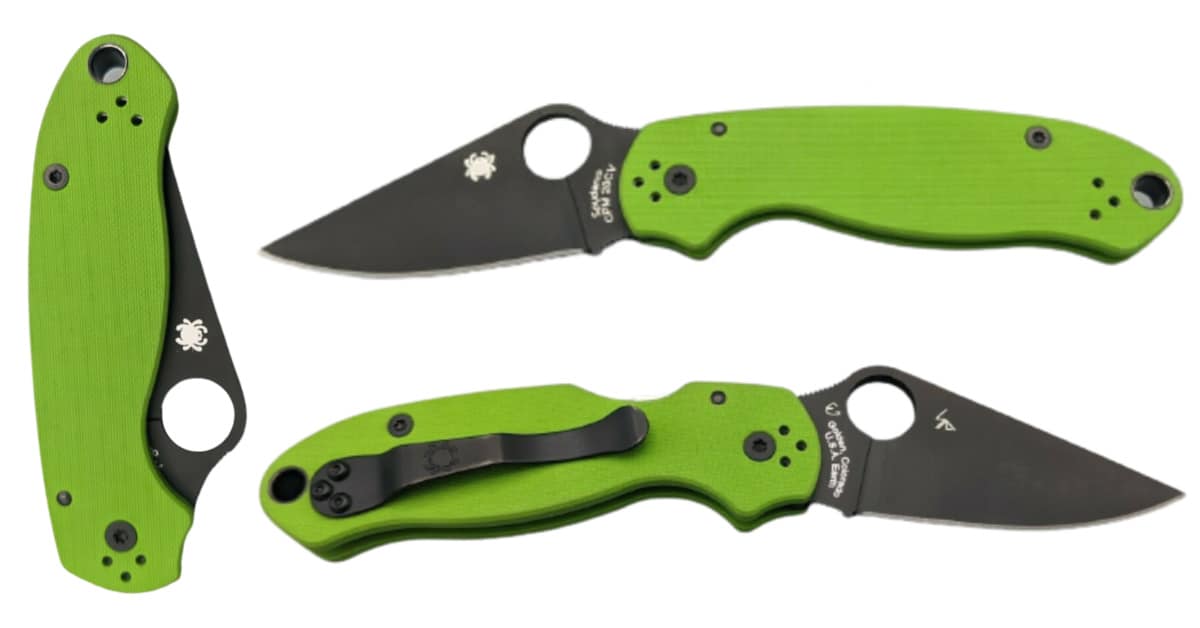 When I found out that the previous Spyderco I had been carrying was not allowed on my college campus (or in government buildings) this is the knife I chose to replace.
The Para is really the little brother of the incredibly popular Paramilitary and the ergonomics are almost identical. Its smaller footprint, however, allows it to be more at home in your pocket and it feels lighter in the hand.
The Para comes with G10 scales in a myriad of colors and several choices of steel, all of which hold an edge extremely well. My knife showed off CPM-20CV which, technically, is tool steel but it is incredibly durable and tough.
The pivot is smooth and after some miracle oil and break-in time, I'm able to comfortably open and close the knife with one hand.
If you want a lightweight knife without a ton of frills that will last forever, the Para is a solid choice.
2. Benchmade Mini Griptilian 556 (2.91″ Blade)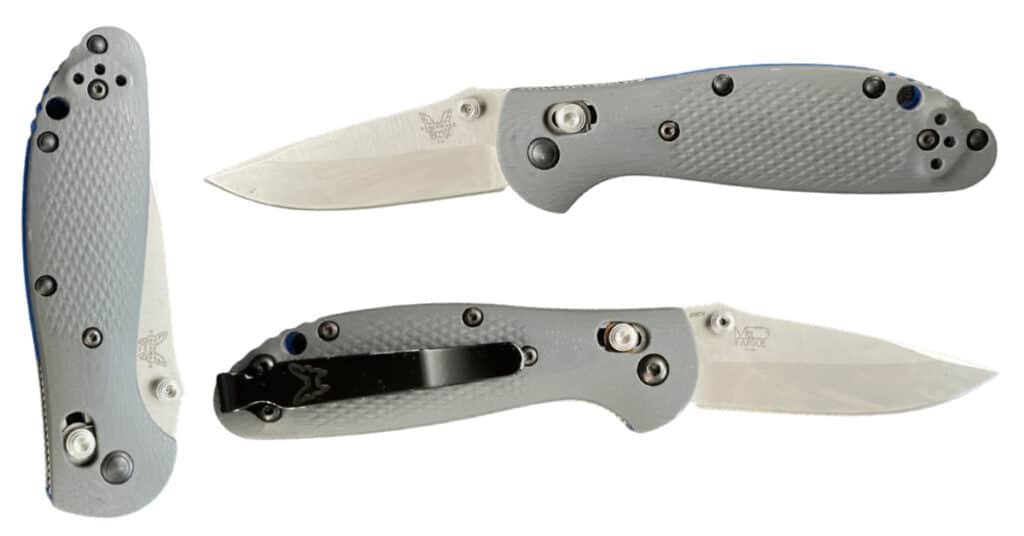 Although I don't have the numbers, I would gamble that the Benchmade Griptillian (or "mini grip") is the best-selling knife in the Benchmade lineup.
My guess is based on many things that the knife has going for it:
Price. You get the Benchmade quality at a lower price point than almost any other mid-size knife they offer.
Size. Benchmade tends toward larger knives that, while beautiful, are a bit big for daily carry. The Mini Griptillain fills the right space.
Options. The mini grip is available in black, gray, green, pink, blue, and just about every other color you can think of. Couple that with blades of varying colors and steel and you can get just about whatever you want.
Despite all that this knife has going for it, I'm going to be honest here, I sold this knife shortly after receiving it. I just found it uninspiring. It's the perfect workhorse of a knife if you simply need something that gets a job done. But it hit me like vanilla ice cream.
I personally wanted a knife that is a bit more unique or flashy but, if you simply want a great knife with a 3″ blade then this is a great choice.
3. Benchmade Mini Barrage 585 (2.91″ Blade)
As you can probably tell from the amount of wear my knife shoes, this is the one I chose to carry instead of the Griptillian.
The Barrage is a very similar knife but feels a bit beefier in hand and has a spring-assisted opening. This was enough to tip my favor toward this knife and I quickly grew to love it. It has held up to tons of use while eating my lunch, opening boxes, and even doing some farm work when I visit home.
Surprisingly, given the amount I've used it, I don't have a lot to add about this knife. The pictures probably speak volumes about how much I like it.
4. CRKT M16-10KZ (3.0″ Blade)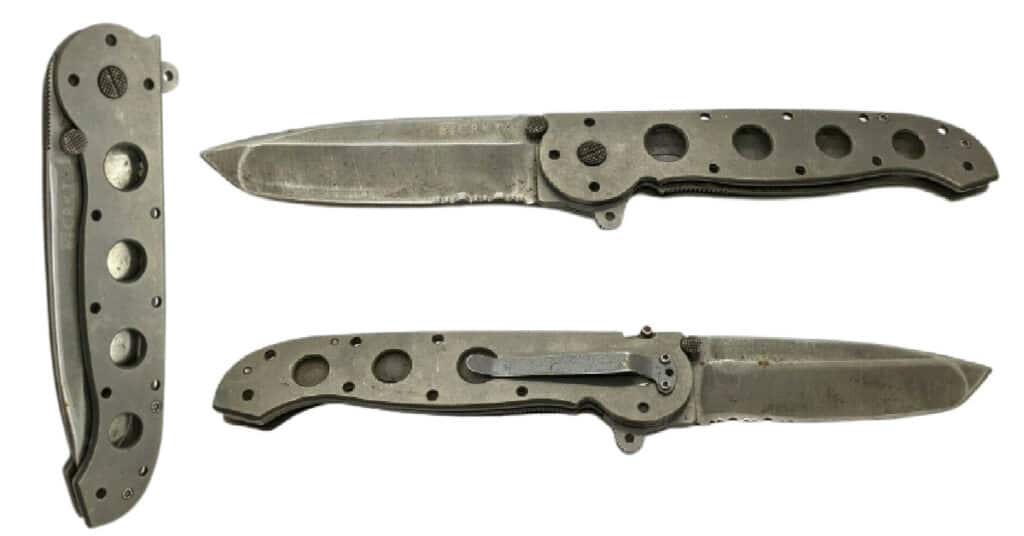 No, I didn't find this knife in a warzone. I inherited it from my brother. Although I guess that's about the same.
Despite being so worn that the tanto tip was pretty much rounded, this knife still feels very solid and holds a great edge. Lockup is firm and it flips reasonably well if I keep it clean (hard to do given my filthy pockets).
I typically prefer a knife with G10 or similar scales but find that this knife still feels good in the hand.
It's almost worth noting that this knife has a 3″ long blade exactly. If you need the longest knife you can legally carry (assuming your state knife laws are as strict as mine) then this is a great option!
5. Case Knives Mini Trapper (2.8″ Blade)
This is the other knife on the list that looks great on paper but doesn't end up in my pocket very often. Case Knives (like Old Timer or Buck Knives) seem to belong in the pockets of old men who sit outside the general store snacking on apples and cigars.
In other words, not me.
The version I own is the Mini Trapper and it's one of the only knives that fits comfortably under the 3″ blade requirement. I do appreciate that it has two blades (especially in such a small package) but I found myself using only the main blade 95% of the time.
If this style of knife appeals to you, I included this one here because I love the history of Case Knives and feel like it's the best option of this variety.
Does It Have To Be Under 3″?
If your state knife laws have a blade length guideline, it typically reads like a "not longer than" rule. In our case, 3″ is fine, over 3″ is not.
Am I Likely To Get In Trouble If My Knife Is Longer Than Legally Allowed?
While this is true of every law, it's particularly true in the came of knife length: if you don't get caught, you won't get in trouble. You can likely carry a knife longer than allowed (as I accidentally did) for a long time without getting into trouble.
The problem comes if you do get into trouble. If for some reason, your knife gets confiscated, or you have to defend yourself with it, etc. then having an "illegal" knife can put a major hole in your defense and place you in hot water.
However, most knives that are too long to be carried are perfectly legal to be used and carried on your own property. When you're in public it's better to be safe than sorry and simply get a 3″ blade (or less if required in your specific situation).
It's also worth noting that enforcement of knife laws is often done according to whatever ideas the officer or enforcing body has. For example, switchblades are legal in many states (as are balisongs) but you'll often meet law enforcement individuals who think they are against the law.
If someone thinks that your knife is too long, it'll be up to you to be informed and argumentative enough to get returned to you.
How Is Blade Length Measured?
How blade length is measured is typically up to the person doing the measuring. However, the proper way is to measure the entire blade (not just the cutting surface) from the tip to the handle.
As such:

If you're planning to conceal a knife with a 3″ blade on your person, remember that the folded length will typically be 3/4-1″ longer than the blade length.
When Would You Need A Blade Longer Than 3″?
Despite my love for larger blades, there are actually very few times in real life when you'll need a blade longer than 3″. A three-inch blade is sufficient for all day-to-day cutting tasks that the average person.
Cutting efficiency comes down to the blade steel and shape more than the overall size.
However, you may want to look for a longer knife if you're going to be doing much whittling, skinning, food prep, etc. Just be aware that you'll forgo some maneuverability if you opt for a bigger knife.
Conclusion
At the end of the day, choosing the best knife with a 3″ blade will be a matter of what exactly you need the knife for. For most tasks, any of the above knives will be more than up to the job.
Just remember, buy once and cry once. Get a knife that will serve you well for years to come!
When you visit a merchant by clicking a link on this site we may make a commission on anything you buy (at no additional cost to you).   Affiliate programs and affiliations include, but are not limited to Amazon Associates and the eBay Partner Network."