When you visit a merchant by clicking a link on this site we may make a commission on anything you buy (at no additional cost to you).   Affiliate programs and affiliations include, but are not limited to Amazon Associates and the eBay Partner Network."

I'm a sucker for new and unusual knives. Consequently, I spend a lot of time wandering around knife stores lusting over blades that I can't afford.
Now imagine my surprise when I found a brand new Spyderco knife at my local knife shop for under $20.
Sounds too good to be true? Well, maybe I should show you the knife before you get too excited.
Spyderco Bug – The Smallest (and cheapest) Spyderco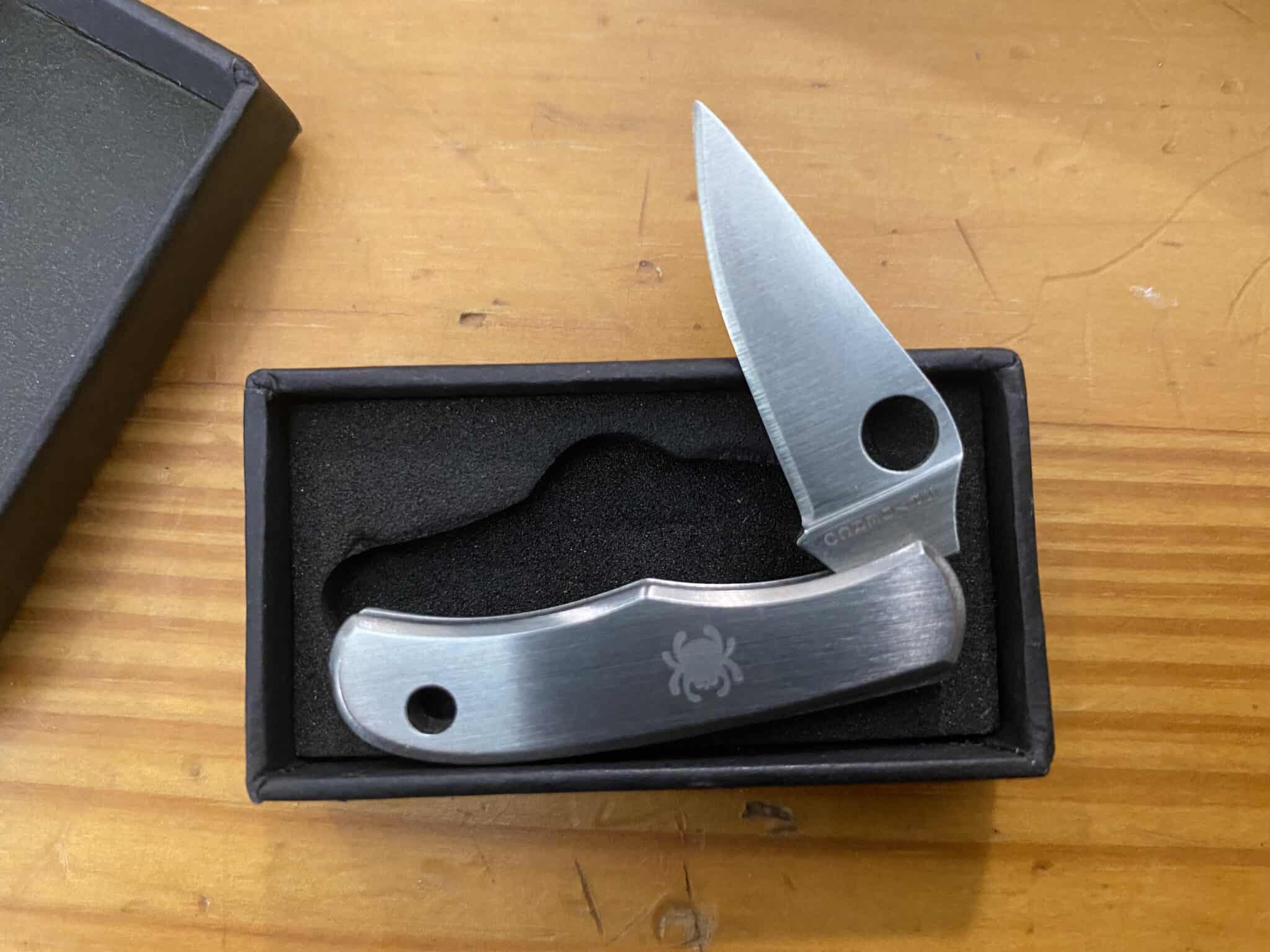 Looks great, right? Do you like that fearsome 1.27″ blade?
The Spyderco Bug is an all-stainless steel micro knife meant to be carried on a keychain. At it does that job super well. I can carry it all day and just forget that it's even there. But what if I need to use it?
What does it offer me then? Well, let's take a look at the specs.
Spyderco Bug Specs:
Blade Length: 1.27″
Closed Length: 1.63″
Overall Length (Open): 2.90″
Blade Material: 3Cr13 Stainless Steel
Lock: Slipjoint
Blade Style: Non Serrated Full-Flat Grind
Weight: 11 Grams (.4oz)
Out Of The Box Impressions & Use
My first impression was the incredible heft of this knife. At over 1/3oz, I can imagine that smaller users might get tired of carrying this hog in their pocket all day.
Okay, well, actually the knife is small enough that it was hard for me to get it out of the box.
However, it opens easily and feels reasonably safe to use.
I've heard people raving about the "build quality" of this knife and I'm not sure I'm on the same page that they are. I will say that it feels like it's built like a real knife and not a novelty gift. All-in-all, I'd say it feels about like you'd expect a $20 knife from a quality company to feel. Decent.
Mine came shiny and razor-sharp right out of the box. While I wouldn't try to save with it (one hair at a time…) it was super effective on tape, strings, and other small tasks. It failed to cut an apple though.
What I Love About The Bug
The best thing about this knife is that it absolutely disappears on a keychain. If you want to have a blade on your without attracting any attention this is a good option. The all-stainless build blends right in with the (admittedly large) number of keys on my ring.
I also like that this knife has no lock. I mean, a lock might be slightly safer, at least until it was time to close it. A knife this small is safer and easier to close without a lock and you probably shouldn't be using it for intensive tasks anyway. The lack of a lock also makes this knife legal for carrying in places where you can't carry many knives (hello UK!).
Lastly, there's no denying the cuteness factor. Nearly everyone I show this to comments on how adorable it is. Add that cuteness level to its usefulness and you've got a winning combination.
What I Don't Love
As you'd expect, a knife this size necessitates some compromises which hurt its overall score in my book.
It Scratches Easily. I scratched this knife putting it on my keychain. Since then it has continued to sustain scratches while banging around with my keys.
It's Hard To Sharpen. The Bug is mediocre at holding an edge. I can only assume that it's because of the very limited cutting surface. However, its size makes it difficult to sharpen well and get as sharp as I'd like it.
Limited Carry Options. Want to carry this on a clip? Too bad, it doesn't have one. Want to put it on paracord? Too bad, the hole is too small. Want to stick it in your wallet? Too bad, it's too fat. Want to put it on a keychain? Yep, that's the option. I guess you could also slip it into your pocket but it'd be liable to go missing in mine.
So, Is It Just A Novelty?
I've carried my Bug on my keys for nearly a year now and, during that time, I've talked to 10+ other people who have purchased the knife. The most common denominator in whether they liked the knife or not is the expectations they had when they bought it.
Everyone who disliked it was astounded at how small it was when they opened it and said they expected a "real" knife.
Everyone who loved it realized what it was, a slip-joint micro-knife, and was pleasantly surprised by its quality and usefulness.
Personally, I think this knife is highly functional and I'm happy to use it for everyday tasks if I don't have another knife on me.
With that being said, I always try to have another knife on me. One that is bigger, easier to keep sharp, and easier to access.
Many people do choose to carry this knife exclusively and there's no doubt that it is effective. When faced with clawing open an Amazon box with my fingernails or a pen or pulling out the Bug, this is a no-brainer.
What Makes A Great Keychain Knife: Alternative Options
If you are looking for a nice knife that is a bit more "knife-life" to stick on your keychain the Bug has a couple of older brothers that would do the job nicely.
While I still carry the Bug, these 5 knives are on my short list to buy and put on my keychain sometime in the future:
Conclusion
So should you add a Spyderco Bug to your shopping cart? Probably! It's only $20 after all so you can add it to your cart while buying a real knife and you won't even notice it. You might even get some use out of it!
When you visit a merchant by clicking a link on this site we may make a commission on anything you buy (at no additional cost to you).   Affiliate programs and affiliations include, but are not limited to Amazon Associates and the eBay Partner Network."